PLATEER Business Areas
The e-Commerce Solution(ECS) Business Division carries out the design and construction of smart e-Commerce platforms that could be implemented in all types of digital devices and provides e-commerce/open market platform solutions and AI personalization Martech platform solutions to domestic conglomerates.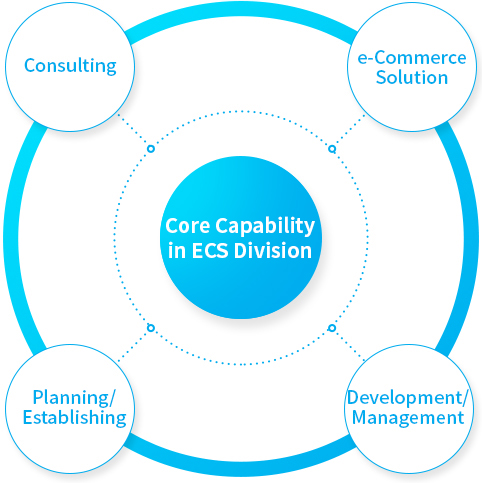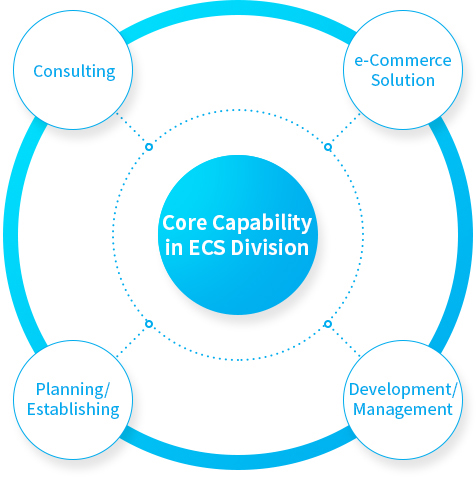 e-Commerce & Martech platform solution
that leads the market
2007

Released X2Commerce 1.0, an enterprise-type e-Commerce solution

Acquired e-Commerce solution based on own framework

Adopted by Lotte Internet Duty-free Store, SK Internet Duty-free Store, Dongwon Mall, etc.

2010

Released X2Commerce 2.0, a mid-sized e-Commerce platform solution

Used in the deployment of large e-Commerce platforms (integrated malls)

Adopted by E-mart, Shinsegae Department Store, Hyundai Department Store, Lotte Super, Lotte Mart, etc.

2014

Released X2Commerce 3.0, a cloud-based solution

Provided cloud-based application support

Provided multi-language/multi-currency global site support

Built the New Zealand global open market

2016

Released GROOBEE, a personalization marketing solution

Provided the country's first onsite marketing support

Based on real-time analysis of customer behavior data

Adopted by Lotte Home Shopping, Topten Mall, and 100 other companies

2018

Released X2Commerce 3.6, a framework-upgraded version

Used open source-based framework

Strengthened BOS function like exhibitions and claims

Adopted by Samsung Card, CJ Olive Young, KT

2020

Released GROOBEE Season 2, an AI personalized Martech solution

Used machine learning and deep learning algorithm

Optimized automations like AI product recommendations, AI segment targeting, online/offline site personalized messaging/exposure, A/B/N test

2021-3Q

Released X2BEE, D2C platform solution

Used the CHAMP access method unique to the new e-Commerce solution

Integrated with the GROOBEE AI engine

2023

Released X2BEE NFT D2C/commerce specialized NFT distribution-marketing solution CHAMP, a solution development method
A competitive e-Commerce platform solution must meet the needs of businesses related to the company, respond nimbly to the rapidly changing business environment and technology environment, and at the same time have the ability to connect quickly with other outside platforms.
Cloud Native

DevOps, Microservice, Containers, CI&CD

Headless Commerce

Segregation, DX Differentiation, Flexible Front

AI Connected

STP Engine, Recommendation, Analysis Engine

MSA Oriented

Time to Market, Scalability, Resilience, Specialization

Practice Based

Competency, Biz, History, Human Resource
X2BEE, a next-generation D2C e-Commerce platform solution
For this purpose, PLATEER provides customers with a future-oriented e-Commerce platform solution through the CHAMP access method In particular, as a solution with optimized agility/flexibility/availability, the CHAMP-based X2BEE will become a leader in the global e-Commerce ecosystem in the future.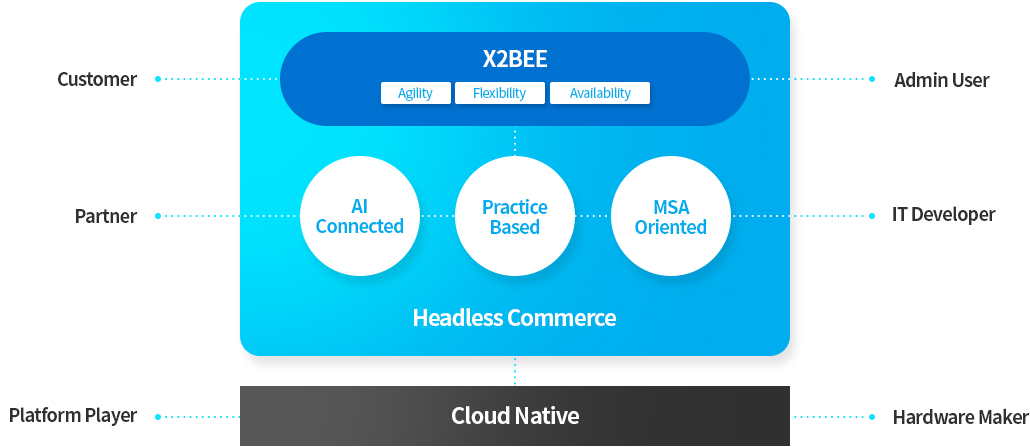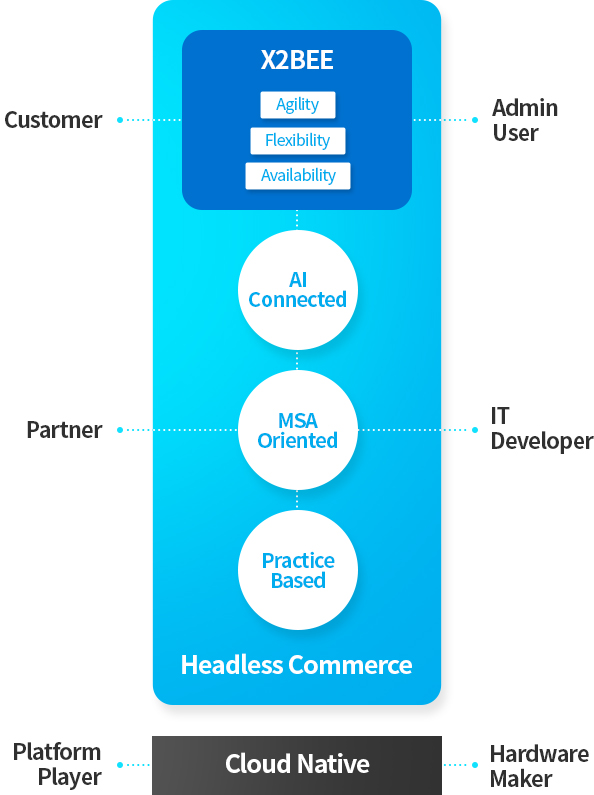 Platform Configuration for each business area
PLATEER has so far carried out more than 170 e-Commerce platform construction and platform operation projects on more than 90 large corporate sites. PLATEER's e-Commerce platform solution business provides turn-key solutions encompassing the A to Z of the e-Commerce business, based on years of know-how accumulated by the company.